This is a list of who I regard as the Top 10 fantasy tight ends at the moment (other lists available: running backs and wide receivers). The analysis below is intended to offer contrarian and in-depth perspectives. While I am not saying don't draft any of these players, I would just like to bring areas of concern for each of them to the forefront.
1. Travis Kelce, Kansas City Chiefs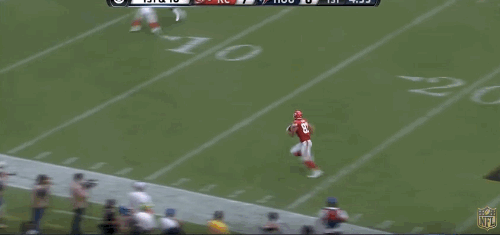 The king is dead, long live the king! Part of me feels dirty for ranking Travis Kelce No. 1 of the perennial top banana Rob Gronkowski. The deal-breaker is that Kelce goes into 2017 as the anticipated clear-cut number one target in the Chiefs' passing attack, and has played in 16 games in each of the past three seasons.  While the odds are that Rob Gronkowski will be the first tight end taken in your fantasy draft and arguably has more upside, give Kelce a look in the third or fourth round.
2016 Season: Kelce had 85 catches for 1,125 yards (both career highs) and four touchdowns. Kelce had 117 quarterback targets, which accounted for 21.8 percent of the team's target total. Kelce started off the season slowly, averaging just 4.7 receptions and 51.4 yards per game (a 51.8/828.4 full-season pace, in line with his prior two season stat lines) over the first nine contests.  During the season's final seven games, Kelce averaged 6.1 receptions and 94.1 yards per contest (a 98.3/1,506.3 full-season pace). Kelce's uptick in production coincided with teammate Jeremy Maclin's groin injury that kept him out of action from Weeks 9-13, and limited him the rest of the year.
Offseason Buzz: Kelce underwent shoulder surgery this past spring, and has been rehabbing ever since. The coaching staff has expressed optimism Kelce will be fully ready to participate in training camp.
Expected Usage/Target Share: Following the release of Jeremy Maclin, the expectation is that Kelce will ascend to the top of the Chiefs' target totem pole. At minimum I would expect Kelce to at least repeat his 21.8 percent of the team's target share in 2016. One area you would really like to see Kelce improve is touchdowns, as he has never surpassed five in a season. At 6-foot-5, the coaching staff needs to involve Kelce more in the red zone, which would be a boon to the Chiefs and fantasy owners alike. As the likely top option in the pass game, I think Kelce has double-digit touchdown upside.
Supporting Cast: One chief concern (pun intended) for Kelce is the guy throwing him the ball, Alex Smith. The coaching staff considers Smith a game manager, and typically looks to limit his pass attempts (the Chiefs as a team ranked in the Bottom 25 percent of the NFL in that category last season), which in turn limits Kelce's theoretical upside. Kelce goes into 2017 expected to share receiving duties with electrifying second-year wideout Tyreek Hill and third-year wideout Chris Conley. Hill comes into the year with high expectations after scoring 12 total touchdowns in his 2016 rookie season. Frankly, I do not truly know what to expect out of him, as the track record of converting gadget players into legit No. 1 wide receivers is spotty. For every Steve Smith Sr. or Antonio Brown, there is a Cordarelle Patterson or Tavon Austin. Conley has looked like nothing special through two NFL seasons, and looks like the third option after Kelce and Hill. The run game starts with Spencer Ware, with Kareem Hunt and Charcandrick West vying for backup snaps. Coach Andy Reid does have a history of heavily involving his backs in the receiving game.
Health Concerns: As mentioned above, Kelce is coming off shoulder surgery, and will hopefully be ready for training camp. It is also worth noting Kelce missed his entire rookie season in 2013 due to microfracture surgery to his right knee.
2. Rob Gronkowski, New England Patriots
Gronkowski has been the perennial top fantasy tight end choice since his magical breakout 2011 season (90 catches, 1,327 yards, 18 total touchdowns). Unfortunately, fantasy geeks have been chasing those stats ever since, leading to some disappointing fantasy seasons out of him. When healthy, Gronkowski has more upside than anyone on this list, but a full 16-game season is something that has eluded him since the same 2011 season mentioned above. Let somebody else reach for Gronkowski in the late second/early third round, and draft Kelce a round later if you must take a tight end early.
2016 Season: Gronkowski had just 25 catches for 540 yards and three touchdowns. His 67.5 yards per game average was his lowest since his rookie year in 2010. To be fair he missed eight games due to injury, and was held catchless in two others in which his snaps were heavily reduced due to his health.  If you throw out the two catchless games, Gronkowski averaged a much more studly 90 yards per contest. While probably unsustainable, Gronkowski's 21.6 yards per catch would have easily led the NFL if he had maintained that pace throughout the season.
Offseason Buzz: This past May, Gronkowski was cleared from his December back surgery, and has been fully participating in the Patriot's team activities since.
Expected Usage/Target Share: In the three seasons where he has played at least 15 games, Gronkowski has averaged around 20 percent of the team's target share. I would expect that number to be his best-case scenario for 2017, as the New England pass-catching corps has gotten quite crowded. As has been the case since his rookie year, Gronkowski can be safely inked as the top redzone target. He has scored double-digit touchdowns in every season he's played 11 games or more (five out of seven seasons).
Supporting Cast: Everyone knows who Tom Brady, the greatest of all time, is. Nothing more to say there. As mentioned above, the pass-catcher list in New England has gotten quite long. Brandin Cooks was brought in via a trade with New Orleans, and many are expecting him to become the top deep threat in New England. Stalwart Julian Edelman is also still around, and is a lock for at least 70-80 catches as the top possession receiver. Chris Hogan, Danny Amendola and Malcolm Mitchell project to have important, but less prominent roles as well. Meanwhile, the backfield boasts 2016 Super Bowl MVP James White, free agent pickup Rex Burkhead, and jitterbug Dion Lewis, who are all proficient receivers. Additionally, free agent pickup Mike Gillislee is expected to replace LeGarrette Blount as the goal-line hammer. It's a shame there's only one football.
Health Concerns: So yeah, about that … we'll start from the top. Last year, Gronkowski tweaked his hamstring in the preseason and essentially missed the first three games of the regular season. From there, he received a punishing hit in Week 10 from Kam Chancellor that punctured his lung, and then suffered a back injury in Week 12 that effectively ended his season and required surgery. In 2015, Gronkowski missed one game due to a knee injury. In 2013, he missed the first six games after undergoing offseason back surgery, and then tore his ACL/MCL in Week 14. In 2012, Gronkowski missed five games after breaking his forearm in Week 11, and then reinjured the arm in the playoffs.
3. Jordan Reed, Washington
Reed is another player who has the theoretical upside to finish 2017 as the No. 1 tight end. He is built like a wide receiver and plays like one, too. However, similarly to Gronkowski, injuries continue to hold Reed back from achieving his full potential. If you do draft Reed, make sure you snatch up another upside tight end in the later rounds of your draft.
2016 Season: Reed had 66 catches for 686 yards and six touchdowns, while gutting through several injuries (only 12 games played, and limited in some of those). Despite all the missed time, Reed still finished with 89 targets (good for fourth on the team) and received 15 percent of the team's total target share. If you extrapolate Reed's target count over a 16-game slate, he would have received 118 and led the team. Prior to suffering a severe shoulder injury in Washington's Thanksgiving Day game, consistency was the name of Reed's game, finishing with less than 53 receiving yards just once (two catches for 41 yards in Week 10).
Offseason Buzz: Reed has been talked up extensively this offseason, with coach Jon Gruden declaring "the offense runs through" him. Since returning to the practice field this past spring, glowing reports have stated Reed looked "dominant," and beat writers are predicting Reed could lead the team in catches and receiving yards if his health cooperates.
Expected Usage/Target Share:  Gruden's endorsement of Reed as the offensive catalyst make sense. Both 2016 target leaders, wide receivers Pierre Garcon and DeSean Jackson, departed via free agency. The pair leaves behind 214 total targets from 2016, in an offense that has increasingly become pass-happy. I would expect Reed to ascend to the first read for quarterback Kirk Cousins, and finish with at least a 22-24 percent of the total team targets. The Washington offense projects to be an air show yet again, so the scoring opportunities should be there for Jordan Reed.
Supporting Cast: Reed's quarterback is Cousins, who finished third in passing yards among quarterback's in 2016 with 4,917 (the passer with the next highest passing yards was Aaron Rodgers, with 4,428). The Washington wide receiver group consists of projected starters Terrelle Pryor and Jamison Crowder. Former quarterback Pryor was brought in on a one-year deal via free agency, and brings big play skills to the offense. Crowder finished 2016 second on the team in catches (67) and third in receiving yards (847), and projects as Washington's possession guy. Washington also has x-factor Josh Doctson in the fold. He is a first round pick in 2016 who missed most of his rookie season with an Achilles injury. The Washington running game looks to be fluid to start the season, with only Chris Thompson having a defined role as the passing down specialist. Rob Kelley and 2017 fourth-round rookie Samaje Perine figure to battle for carries.
Health Concerns: Many. Reed suffered a concussion in Week 5 of the 2016 season, and missed the two ensuing games as a result. Reed then suffered a Grade 3 AC joint sprain in his shoulder during the Week 12 battle with Dallas. Reed ultimately missed two games due to the shoulder, and was severely limited in the rest although he was able to avoid surgery. Additionally, Reed missed two games in 2014 due to a concussion, five total games in 2013 due to hamstring injuries, and nine games in 2012 due to another concussion. In all, Reed has experienced five documented concussions. My fear would be the next one sits Reed down for a very long time.