Recap:
Wk 11:
L
Wk 12:
W
Wk 13:
W
11-2, secured #1 seeding and bye week.
Roster Moves

Wk 12:
IN:
D.Manning (S, HOU)
OUT:
A.Bigby (S, SDC)
IN:
S.Brown (CB, CLE)
OUT:
D.Butler (CB, IND)
Pretty straightforward moves.
Bigby's gone down injured, the Skrine gravy i thought would dry up with the return to health of a couple of starters - and it is - hence the Brown add.
Wk 13:
IN:
D.Moses (LB, GBP)
OUT:
B.Skrine (CB, CLE)
With confirmation that Skrine's usefulness is at an end i picked up a player who has a soft home stretch if there are any regressions or delays with Clay Matthew's recovery timetable. With the depth i have i probably wont use him, but thatd be some pass rush GBP can operate if they move fwds with one on either side. So im taking a longer view with that ...
The playoff picture then: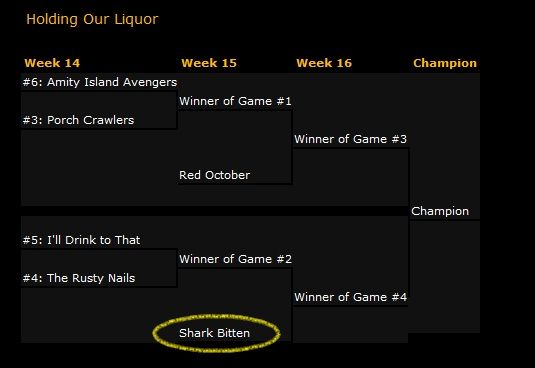 Congratz to all who're here and commiserations to all that arent. Its a tough league and i expect itll all change come next season!
I'll update this some more with some commentary on those teams in action during the bye and WW info in the coming days.
EDIT:
Ill update this accordingly, but all change. Joe (Red October) pipped us to #1 spot and as a result my bye will see me matchup against one of Porch Crawlers or Amity in wk2. Well done Joe!