Welcome to the Deep Emerald Dynasty League!!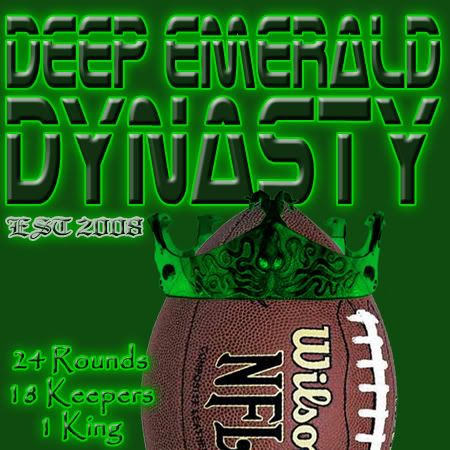 This will be the spot for announcements, info, draft discussions, trade discussions, rule change deliberations, etc. I highly encourage you to check in here frequently so that you can be informed and have the opportunity to be part of any tweaking, deliberations, and voting.
As a bonus we will have a week 17 exhibition game named the "Deepest Dynasty Bowl". In this game the combined rosters of the Deep Emerald Champion and the Toiletbowl Champion will do battle against the Deep Blue, Deep Purple and Deep Black league's champions royal rumble style to see who has the "Deepest Dynasty" in the FantasyShark Tank (and for some extra sand$!).
Welcome to all our members of the Deep Emerald League!
jhnrx05
Commish
DEEP EMERALD DYNASTY LEAGUE RULES AND BY-LAWS
Welcome to the DEEP EMERALD DYNASTY LEAGUE, the finest fantasy dynasty league in the Tank!
Listed below are the detailed descriptions of the leagues rules and regulations as they are today. Understand that this document is a "living document" that will change over the course of this fantasy football league. We will have opportunities to add and/or modify this document throughout the off-season. So if you have any questions or see something that has been overlooked or omitted, please let your league commissioner know.
LEAGUE OFFICERS
The league will have a total of five officers - One League of Titans commissioner and four league specific commissioners. For the 2008 season they will be as follows:
jhnrx05 will be the Deep Emerald commissioner.
marik7772003 will be co-commissoner
vonbearsalot will be co-commissoner
If you have any comments, concerns or suggestions you wish to discuss regarding your specific division or the Deep Emerald Dynasty League as a whole, please contact the commissioner and/or co-commissioners.
LEAGUE COMMUNICATION
Over the off-season and even during the 2011 season there will be times where information will need to be distributed to all of the league members. Individual FantasyShark PMs will be the traditional method we use to do this. In addition to PMs we will also occasionally use some of the following tools available to us.
Official Site Message Board
Always check the message board for any new messages or updates. Great place for our internal game-day type of trash talk as well! The commissioners will periodically clean up the older messages.
E-Mail
Sometimes before and often during the season, you will receive e-mails from the league regarding Draft info (how-to's, picks), trade notification (offers, rejections, accepted), waivers processed, opponents rosters, and league announcements. Be sure to keep your current e-mail address listed in your franchise info records.
Community Leagues Forum
Found on FantasySharks.com. Use this forum for any type of general conversations or such that you might want to set up.
FEES
2000 Sand entry fee and $6 per team for MFL!
FRANCHISE SETUP
Over the off-season it will be your responsibility to make sure your franchise records are set up correctly and accurately. The following must be included.
Franchise Name: Ideally, this should be your FantasySharks username that you use in the tank. Any other team name you want to incorporate should include your FantasySharks username first (i.e. Assassin's Triggermen)
Owner Name: This can be your real name or your FantasySharks username that you use in the tank. This will be the name you use when setting up your MFL account.
E-mail Address: Please include a working, valid address as trade offers, waiver reports, weekly results and other league information will automatically be sent to you during the year.
SCORING
Scoring for the 2011 season will be as follows:
Passing
TD Pass 4
Interceptions Thrown -1
2pt Passing Conversion 2
Every 25 passing yards 1
Rushing
TD Rush 6
2pt Rushing Conversion 2
Every 10 rushing yards 1
Receiving
TD Reception 6
2pt Receiving Conversion 2
Every 10 receiving yards 1
Each reception 1
Miscellaneous
Kickoff Return TD 6
Punt Return TD 6
Fumble Recovered for TD 6
Each Fumble Lost -2
Kicking
Each PAT Made 1
FG Made (0-39 yards) 3
FG Made (40-49 yards) 4
FG Made (50+ yards) 5
FG Missed (0-39 yards) -1
FG Missed (40-49 yards) -1
Team Defense / Special Teams
Interception Return TD 6
Fumble Return TD 6
Kickoff Return TD 6
Punt Return TD 6
Blocked Punt or FG return for TD 6
Blocked Punt, PAT or FG 2
Each Interception 2
Each Fumble Recovered 2
Each Safety 2
Each Sack 1
0 points allowed 5
2-6 points allowed 4
7-13 points allowed 3
14-17 points allowed 2
28-34 points allowed -1
35-45 points allowed -3
46+ points allowed -5
The MFL league software will be considered the FINAL authority on all NFL scoring stats and plays. FINAL scores are released the morning after the last game of the week.
Scoring rules may not be changed once the season has started.
The draft order will be in the reverse order of the prior years final standings, (including playoff results, but not "Toilet Bowl" results), and the draft will be a "straight" draft (NFL style), consisting of 6 rounds.
Each owner will have a maximum of 12 hours to make each draft pick. It is expected and assumed that actual picks will take far less time. Each owner will make a judicial use of pre-drafting and communication to ensure a timely and conscientious draft experience for all involved. If the timer expires the system will automatically pick the highest-ranked available player for the owner, first based on the owner's "My Draft List" player ranking, and then once that list is exhausted, according to rankings used by the MyFantasyLeague.com site.
Draft picks (current or the following year's) may be traded at the owners discretion. A maximum of 24 draft selections will be allowed per franchise for 2008, regardless of trades made. Any remaining draft picks after the franchisee's first 24 will be forfeited. In future years the maximum draft selections allowed per franchise will be 6.
ROSTERS
A league franchise may carry a maximum of 24 players on their roster at any one time.
There are limits to the number of players at any specific position, however. This is done to prevent the hoarding of certain positions ... most notably RB and QB. This gives every team the opportunity to remain competitive because Team X is not hoarding 12 RBs!
The position limits are as follows. You can never exceed these limits. These limits include the offseason and during the draft as well.
4 QB
6 RB
8 WR
3 TE
3 PK
3 DEF
This is a total of 27 possible positions although you have a maximum limit of only 24 overall players as stated above. So you will have to keep below the maximum at 3 positions during the season.
A franchise may carry less than the maximum number of players without penalty.
KEEPERS
Each Franchise will be able to keep up to eighteen (1 players from their prior year's roster (which includes any post-season trades made) and carry them over to their next season's starting roster. These keepers can be made up of any eighteen players on your roster regardless of position as long as position limits are adhered to.
Keepers will be declared approximately one week prior to the start of the current year's Rookie/Free Agent draft. Declared keepers can not be dropped from their teams until after the draft during the first first-come-first-served pre-season waiver period.
If you decide that you only want to keep, for example, 16 players - then you will be given 2 additional picks at the end of the draft in "rounds" 7 and 8. After the draft all rosters will again be at 24 total players.
A player can be retained as a keeper on any fantasy team for as long as desired, (hence the term "dynasty league"), provided roster and keeper limits are adhered to.
INJURED RESERVE ( IR )
Each team will have two (2) injured reserve positions available to them. These positions may be filled by any player that has been designated as OUT or on Injured Reserve by their NFL team and the MFL system.
The IR players are available for reactivation at any point during the season. Roster and position limits must still be met upon reactivation. Players on IR do not count toward the positional requirements ... until they are reactivated.
LINE-UPS
Franchise owners are responsible for submitting their weekly starting line-ups prior to kickoff of their individual players NFL games each week. Players are locked in / out of the starting line-ups at kickoff of their games. Partial line-ups may be submitted early, however it is highly recommend that complete line-ups be submitted first and then altered later if needed.
The MFL host site determines the exact time of each kickoff and will not allow changes to players in those games after that point. Therefore it is in your best interest to not wait until the last second to submit your line-up as once the window is closed, no exceptions will be made.
If no lineup is reported, the previous week's lineup for that franchise is carried over to the current week . If in the unlikely occurrence that a line-up is not submitted for Week # 1, a complete starting line-up based on the order in which the franchise's players were drafted will be used.
Starting line-ups will consist of the following:
1 Quarterback
2 Runningbacks
3 Wide Receivers
1 Tight End
1 Place Kicker
1 DEF Team
TRADES
Trades may be made between two owners on a nearly unrestricted basis. The trade does not necessarily have to exchange an equal number of players from each team. For example: owner A may trade a QB and two defensive teams to owner B for a place kicker and a wide receiver. However, at no time may a franchisee carry more than 24 active players.
Trades may include current players on your roster and/or picks from the 2008 draft. Year 2009 draft picks will be available for trading at the start of the 2008 Deep Emerald drafts.
Trades will be allowed up to kick-off time of the first game of week 12. At the conclusion of the NFL's regular season, trading will be reinstated to allow for off-season trading to occur.
Trades may be approved by any two commissioners not involved in the trade. Commissioners considering a trade must be unanimous in their decision.
Only trades that are deemed harmful to the overall integrity of the league will be rejected by the commissioners.
Commissioners will have a maximum of 48 hours during the season to consider a trade or else it is immediately processed. If a trade is agreed upon within 24 hours of a line-up deadline, league commissioners do have the power to push it through individually assuming ...
1) they are not a participant of the trade
2) they feel there is no question to the validity of the trade
3) they have unsuccessfully tried to contact the other commissioners.
While the commissioners will be making every effort to login regularly and check for any outstanding trades to approve throughout the week, there is no guarantee that trades accepted within the last 24 hours of a line-up deadline will be approved prior to kick-off of that week's games.
No trades submitted for commissioner review after kickoff of the first game of the week will be approved until after the kickoff of the last game of the week.
WAIVERS
Franchise owners are permitted an unlimited number of waiver moves throughout the course of the season.
Waivers do not necessarily have to exchange one player at a certain position for another at that same position.
The waiver schedule is as follows:
Between the end of the draft and the kickoff of the first game of the season, waivers are handled on a first come-first served basis.
During the NFL season, franchises can submit up to two rounds of waiver requests from the kickoff of the first game of the week until 11:59 PM Wednesday. Submitted waiver requests will automatically be processed in reverse order of the standings at that time (midnight).
Players dropped during the waiver process are "locked" and will not be available for pick up until the following weeks waiver window.
Beginning at 12:01 AM Thursday morning and continuing until kickoff of the first game of the following week, all players not currently in a "locked" status are available to be picked up on a first come-first served (FCFS) basis.
Players dropped during the FCFS waiver process are "locked" and will not be available for pick up until the following weeks waiver window.
Each owner will be allowed an unlimited number of waiver moves per week.
Waivers will be available until kick-off of week 17 for all franchises.
Waivers and Free Agents will be locked and unavailable throughout the NFL post-season and off-season.
SCHEDULE
The regular season includes weeks 1 through 13. Each franchise will play the other teams in their division three (3) times each. The remaining 4 games will be played against teams from each of the other divisions in the league (chosen randomly).
Deep Emerald Playoffs
The three (3) Division champions, along with three (3) wildcard teams will enter the league's playoffs. Weeks 14 and 15 will determine the Deep Emerald League Champion.
The top 2 seeded teams will enjoy a playoff bye week in week 14. The remaining 4 teams will play each other based on seeding (the #3 seed will play the #6 seed; the #4 seed will play the #5 seed). In week 15 the #1 seed will play the lowest seeded remaining team; the #2 seed will play the other remaining playoff team. In week 16 the remaining two teams will play for the league championship.
Toilet Bowl Brackets
The 6 teams that do not make the Deep Emerald Playoffs will enter into a separate playoff bracket. Teams will be seeded based on overall points.
No consideration will be given to individual divisions.
The Toilet Bowl playoffs will begin in Week 14.
The Deepest Dynasty Bowl
Week 17 will be the Deepest Dynasty Bowl exhibition game against the Deep Blue, Deep Purple and Deep Black league champions. In this game the combined rosters of the Deep Emerald Champion and Toilet Bowl Champion will compete against the Deep Blue, Deep Purple and Deep Black league's combined champions royal rumble style. Sand dollar prizes will be accumulated on a donation basis.
TIE BREAKERS
During the regular season, ties are counted as ties.
However, for the purposes of determining the standings and ultimately the Division Champions and Wildcard teams that will progress to the playoffs, the following will be used. In order they are:
1) Overall Winning Percentage
2) Head-to-Head Record
3) Divisional Winning Percentage
4) Total Points
In the case of a tie in a playoff game the following will be used to determine the winner. In order they are:
1) Highest scoring active player of each team.
2) Second highest scoring active player of each team (and so on)
3) League vote
PRIZES
All payout prizes will come from donations made by Deep Emerald owners. As such, the payouts will likely be different from season to season. Thus the payout structure will be percentage based to accommodate the changing sand dollar amounts. Listed below is the payout structure.
League Champion = 40%
Division Winners (3) = 30% (10% each)
Wild Card Winners (3) = 15% (5% each)
Highest Scoring Team = 15%
All payouts will paid by the Deep Emerald Bank following the week 16 League Championship game.
RULE CHANGE PROPOSALS
Proposals for rule changes may only be made during the off-season. The deadline for submitting new proposals is 2 months prior to that years draft. Any proposals submitted after that point or doing the season will be tabled until the off-season begins.
The procedure for requesting a rule change will be to contact one of the four league officers and present your proposal to them. They will discuss the proposal and decide whether or not to present it to the league to discuss for a period of one week. Based on the discussion that follows, the commissioners will then determine whether or not to submit the proposal to a league-wide vote.
For all rule change proposals, a 2/3 majority vote is required to change the current rules. Some rules that are standard across all the Deep Dynasty Leagues may not be able to be changed.
DISPUTES
They're going to happen. They always do.
If you have a dispute, please begin by contacting any of the league officers. If they are unable to resolve the issue themselves, they will bring it to the other three commissioners to discuss. If the four of us are unable to come to an agreement on the matter it will only then go to a league wide vote (all 12 teams) for a period of 2 days. Majority rules at that point.
NOTE: Disputes do not include issues or questions involving Trades. They are handled differently and are discussed in the Trades section of this document.
DEAD TEAMS
If a team does not change their roster, access the league's homepage or otherwise show any interest in their franchise or the league for a period of two weeks (14 days), the commissioner of the league will make a concerted effort to contact the franchise owner. If no response and/or improved effort is received over the next 7 days, the franchise in question will be considered a "Dead Team".
Once considered "Dead", the owner of that franchise will be locked out of the league indefinitely. The team's roster and starting line-up will also be locked until such time as suitable replacement owner can be found.
The original owner will also forfeit all sand and/or actual dollars that were submitted as part of the league fee.
REPLACEMENT TEAMS
If an owner leaves the league or abandons their team, the commissioners will narrow down the potential candidates to two sharks. The remaining members of the league will then vote by PM or email on which shark they would like to join the league.
Any potential candidates must be active sharks in good standing in the Tank, and must personally make it known to the commissioners that they wish to participate in the league if a spot is available. They must also be willing to accept the available team "as is" including roster, future trades, draft position, etc.
Exception: Any shark that has participated in the league as a co-owner of another team for a consecutive period of six (6) months, will automatically be given the spot if they accept it. If more than one co-owner wishes to fill an opening, the remaining members of the specific league will vote on it as described above.
UNETHICAL PRACTICES
WARNING: Participating in any of the following practices may result in your dismissal from the Deep Emerald Dynasty League. If your actions are deemed unethical and detrimental to the league by a majority of the commissioners, a vote will then be taken by your fellow owners regarding your continued participation in the Deep Emerald Dynasty League. Owners will have a period of 2 days to cast their vote by PM or email. At the end of that period majority rules.
If found "guilty", that franchise will be locked out of the league indefinitely. The team's roster and starting line-up will also be locked until such time as suitable replacement owner can be found. The owner will also forfeit all sand and/or actual dollars that were submitted as part of the league fee.
Unethical practices as defined above, include the following:
Collusion
Agreement between two or more competitors that restrains competition and intends to deceive or otherwise defraud the league through unethical methods.
Churning
Picking up and then immediately dropping players with no evident purpose other than "locking" them and thus preventing other owners from acquiring them during that free agency period.
Willful destruction of one's own team
Includes dumping quality players via waivers or trades with no explainable rationale or gain; purposely starting hurt, benched, or bye week players while sitting other viable options; etc.
Other
Any other activities deemed unethical and detrimental to the integrity of the league as a whole.