undefined
undefined

undefinedundefined
We've had a lot of excitement over the past few weeks with preseason games and real fantasy drafts kicking off the 2008 football season. I'll be attending Saturday's Game between the Panthers and the Redskins. It's always interesting to see a game live but I wind up not watching it as much as if I were at a bar or at home. I enjoy the ambiance (SAT word for the week) as well as standing in line for 20 minutes to shell out $15 for a round of beer (can we get a break on those prices?). In this edition of the
Brew Crew Corner, we will conclude our analysis on the first three weeks of the season for WR matchups.
Unlike the RB position, receivers are the hardest to predict production because you don't know how many catches or yards they will get from week to week. Even as hot as
Randy Moss had games like Week 5 last year when he only had 46 yards against a favorable
Cleveland matchup. You may think it is the same as RB's where they can have a bad week but RB's are guaranteed to at least touch the ball several times a game where as a WR might not see a pass go his way all game.
Another factor that contributes to the unknown every week is the fact there are so many WR's on the field at one time. Some teams run three-WR sets. A team such as the Eagles might choose to spread the ball around among its WR's making it a difficult fantasy day for your players.
Here is the Top 10 SOS for WRs for the first three weeks of the season.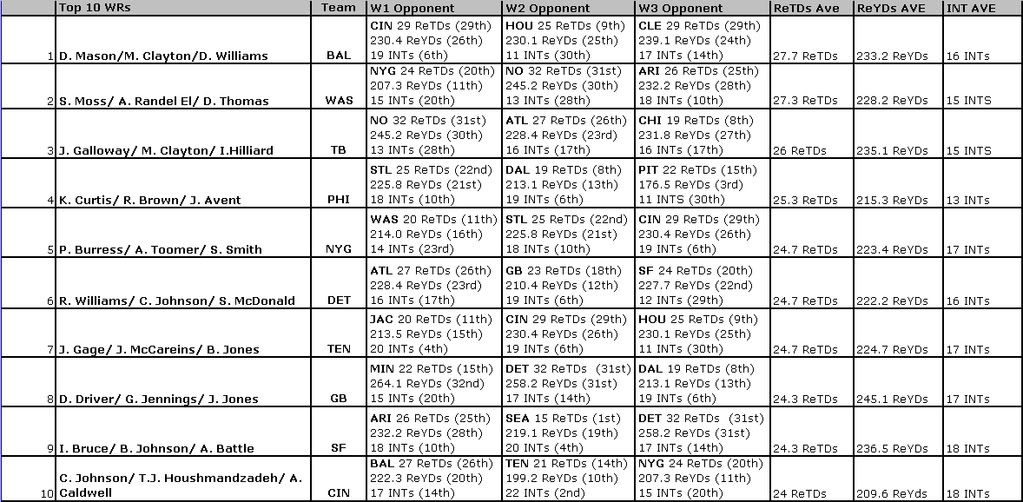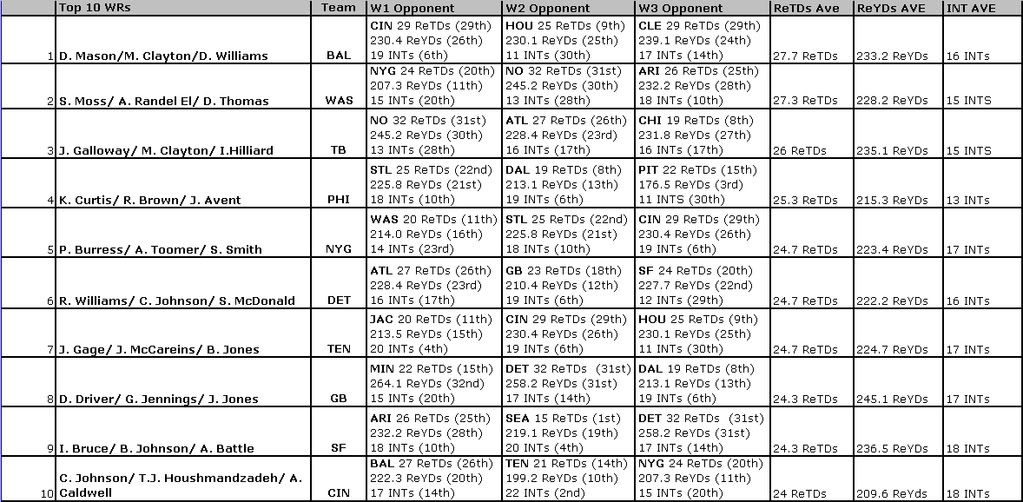 Baltimore
starts the season with one of the easiest schedules for its WR's. These teams gave up plenty of TDs and yards, and only
Houston looks to be improved from last year's defensive unit. The problem, however, will be the QB under center and the health of the offensive line. The Ravens will look to start fast for a passing offense ranked 23rd in PaYDs and 28th in PaTDs.
Jason Campbell has looked sharp in the preseason and they open their season against three teams that also gave up a ton of passes and ReTDs. The Giants and Saints have made improvements since last year, but they may turn into a shoot out along with
Arizona. The new West Coast offense will be another system
Campbell will have to learn but they added two additional WR's in the draft.
Tampa
Bay
Brett Favre and will look to start the season with
Jeff Garcia as the starter. They need
Galloway to return from injury and
Michael Clayton to steep up in order to take advantage of their matchups.
Ike Hilliard is a veteran that will help move the chains, but he averages just 9.9 yards per catch since 2004 which is the lowest among any WR.
Antonio Bryant may also be in the mix to produce.
Donovan McNabb which will help the WR group tremendously. Reggie Brown's hamstring may have him limited to start the season which will force the Eagles to look towards
DeSean Jackson. At first glance it would appear the Eagles have a tough stretch, but they should fair well against the Rams, and division games are always good for scoring. Last year, the Eagles passed for 472 yards in two games against
Dallas.
The defending Super Bowl champions face their division rival to open the season, the Washington Redskins. They then face the Rams and the Bengals which should provide tons of yards for this passing game. Last year, the offense ranked 21st in the league in PaYDs but improved during the end of the year.
Mike Martz left for
San Francisco but
Detroit's passing game will still be good.
Calvin Johnson looks to be healthy for a full season and veteran
Roy Williams is still reliable.
Jon Kitna remains the best QB in the division. They play
Atlanta and
San Francisco in the first three games with a tough game against a good
Green Bay defense. If Aaron Rogers struggles, they may have more opportunities to score on offense.
Vince Young has struggled in the preseason and the starting receivers remain a work in progress. They face two division opponents in the first three weeks with the opener being the toughest. The Titans were 27th last year in PaYDs and haven't made any significant upgrades to the WR's other than
Alge Crumpler who will help move the chains.
Aaron Rodgers has been up and down this preseason and his line hasn't protected him through the first two games. He can now focus on the start of the season now that they won't retire
Brett Favre's jersey.
Green Bay faces two division rivals that were at the bottom of the league in pass defense last year.
The 49ers have been struggling on offense the last few years in the passing game. They've ranked 32nd, 29th and 32nd over the past three seasons in PaYDs. Despite playing in a division that is favorable for passing, they haven't taken advantage of these matchups. They are hoping that
Isaac Bruce can come in and help this team because he knows the Martz system well. Rookie
Josh Morgan looks good so far in the preseason. However, the QB situation is very unstable.
Even though the Bengals played poorly last year, they finished in the league seventh in passing offense. They bring back
T.J. Houshmandzadeh and the disgruntled
Chad Johnson to continue a good passing game. They face three tough games against the run which will force them to rely on throwing the ball all game. They brought back WR
Chris Henry to help with injuries but he will face a four-game suspension to start the season.
Here is the Bottom 10 SOS' for WR's for the first three weeks of the season.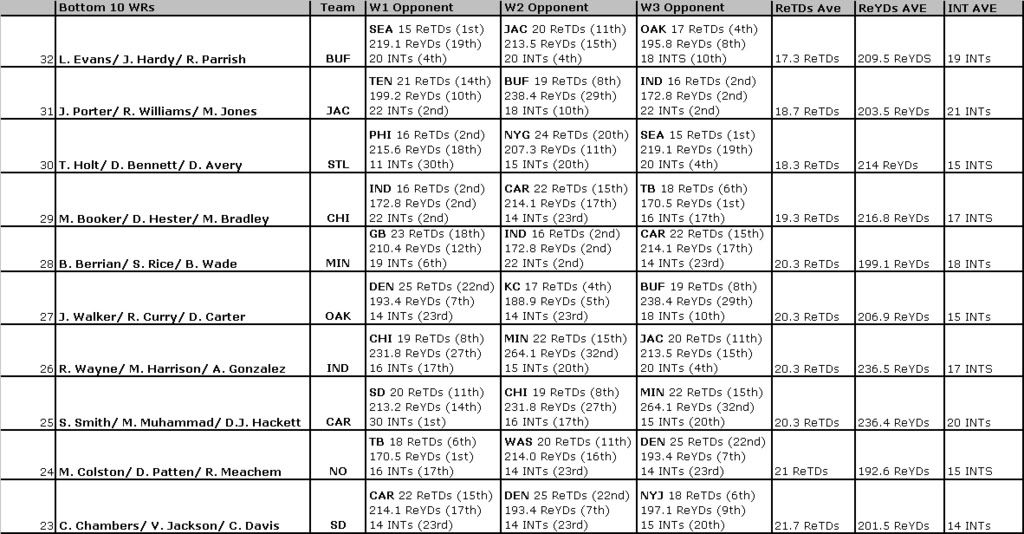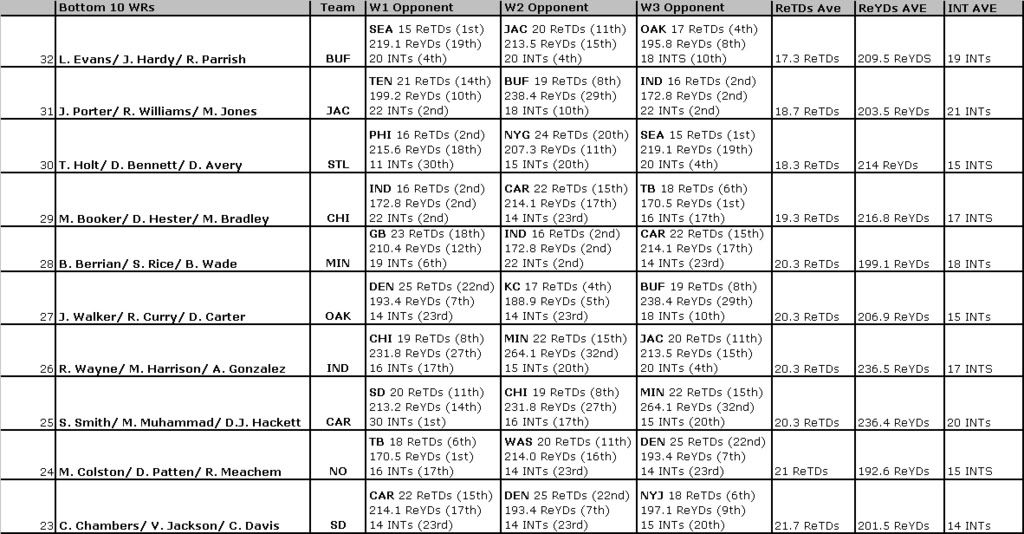 No one wants to start the fantasy season on a rough stretch and sometimes when you select players that are good, their matchups are not.
Last year
Buffalo turned their team around and nearly made the playoffs behind
Trent Edwards. They have the hardest first three games to start the season as these teams combined to give up an average of just 17.3 TDs all year.
James Hardy can step in and take off some of the defensive pressure he's faced in the past.
Jacksonville
has made several changes at WR this year, bringing in
Jerry Porter, two past fantasy sleepers who have never quite broken out. They have injuries to both Porter and
Reggie Williams, leaving this WR corp very thin. They face two division opponents in the first three weeks with
Tennessee and
Indianapolis. These two teams finished second in the league with 22 INTs.
Marc Bulger might not last the whole 16 games. Their O-Line must stand up to pass-rushing teams
Philadelphia and
New York, as well as a
Seattle team that finished fourth in INTs last year. This unit was middle of the pack last year in passing but ranked 32nd with 28 INTs.
QB controversies are never good for WR's but with Kyle Orton named the starter it may help in focusing on the season. Last year
Chicago finished middle of the pack in offensive passing but lost WR's Bernard Berrian and
Muhsin Muhammad over the offseason. They accounted for 1,518 of the 3,362 yards
Chicago had and eight of the 18 TDs. They brought back
Marty Booker to start with kick returner
Devin Hester. They face good defenses in
Indianapolis,
Carolina and
Tampa
Bay to make it harder.
The Vikings upgraded their receivers during the offseason by signing Bernard Berrian, and
Sidney Rice enters another year.
Tarvaris Jackson has improved as he was a Top 10 QB down the stretch in fantasy leagues. He injured his leg last week in a preseason game but looks like he will be healthy in time for the start of the season. They open the season with division rival
Green Bay and then play
Indianapolis and
Carolina. This passing unit finished 28th in the league in passing yards last year with 171.6/gm. In 2007,
Bobby Wade lead the team in yards with 647.
The Raiders' passing offense last year ranked 31st in the league in yards, 24th in passing TDs and 23rd in INTs. They have made changes in the offseason to improve on these numbers. They overpaid for
Javon Walker, whose off-the-field incident and knee has affected his productivity so far in the preseason. They also added
Drew Carter from the Panthers who had 517 ReYDs and 4 ReTDs for an injured Panthers offense.
JaMarcus Russell will use the strong passing game to help boost this offense. They start the season against
Denver and
Kansas City, two teams that held teams under 200 ReYDs per game on average. They then play an up-and-coming
Buffalo defense that ranked eighth in INTs last year.
The Colts have been solid in the passing game for awhile now but face uncertainty this year with the health of
Marvin Harrison.
Harrison has looked good so far in training camp and may be back to usual form. He also has an ADP of 54th player selected which is very good value for a receiver who can get back to 1,000 yards and double-digit TDs. They face
Chicago, who finished eighth in ReTDs allowed, and
Jacksonville who finished fourth in the league with 20 INTs. They play
Minnesota in between which ranked last in pass defense but added
Jared Allen in the offseason.
The Panthers return Jake Delhomme and hope he will be healthy. They also added
D.J. Hackett and brought back Muhsin Muhammad.
Steve Smith will be suspended for the first two games of the season, which will make it harder for the offense as they face
San Diego which ranked first in the league with 30 INTs and 14th in ReYDs per game allowed.
The Saints look to bounce back after a disappointing year. They added another target for
Jeremy Shockey and ranked third last year in passing yards with 269.6 per game. They face a tough
Tampa defense that ranked first in passing yards allowed with 170.5 per game, and then play a decent
Washington defense. Their third game is against
Denver, whose lousy run defense kept teams from having to pass as much.
San Diego
,
like
Indianapolis, hopes to get their starting QB healthy for the regular season. They are also counting on
Antonio Gates back for the start of the year. The Chargers ranked last in the league with 98 PaYDs per game. They play three teams which were middle of the pack in pass defense last year. The team's health will dictate how hard these games will be.
During the season I will break down the match-ups week to week for each position.
Thanks again for reading and happy drafting!